Availability
We are sorry, there are no rooms available at this accommodation at the moment
General
Built exclusively with environmentally-friendly material, Anezina Village offers beautiful Cycladic-style accommodation, along with an outdoor swimming pool, children's playground and on-site shops, just 150 metres from the sea.
Situated on the South East coast of Paros, the village consists of 9 rustic buildings set around a large courtyard. Each building has been designed to make the best use of the climate of the area and has been tastefully decorated and elegantly furnished. There is also a fully-equipped kitchen, allowing guests to dine as they please.
Entertainment is provided twice a week with theme nights, including Greek dance lessons and BBQ. There is a lovely courtyard to relax in and a beautiful sandy beach just a short walk away from this peaceful village resort.
MHTE: 1144K030A0158900
Check-in time
14:00 - 23:00
Check-out time
10:00 - 12:00
Accepted credit cards
Mastercard, Visa
Languages spoken
English, Greek
Facilities
Air-conditioning
Bar
Fax/Photocopying
Grounds
Kitchen
Parking
Playground
Refrigerator
Safety Box
Swimming Pool (outdoor)
TV
Wi-Fi
Activities
Live music, Greek cooking lessons, Greek dancing lessons, Trekking, Diving
Internet
Free WiFi available in all public areas.
Parking
Free private parking available. Reservation not needed.
Booking address
http://anezina.gr/request
We are sorry, there are no reviews yet for this accommodation.
Drios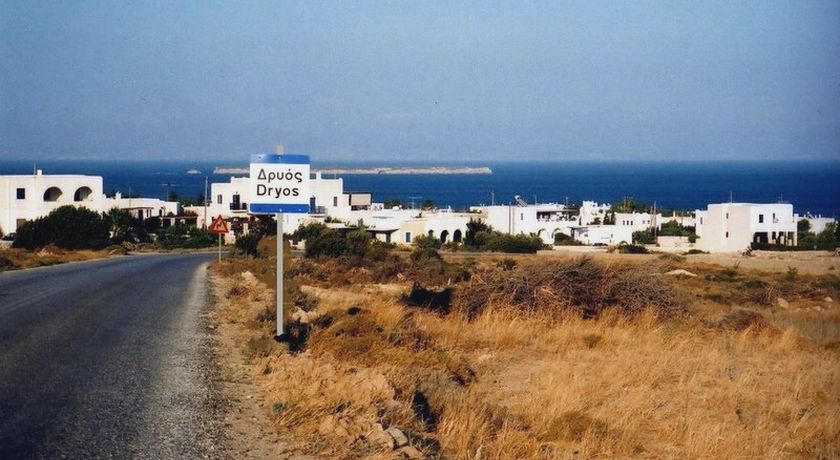 Drios is a green coastal village with running waters that is 25 km from Parikia. It is located on the east side of the island. It is a graphic seaside village with rich vegetation and a lot of running waters. Compared to the rest of the island it is particularly green and fecund even during summer time. Drios is inhabited since archaic times. In location Pirgaki, was discovered an ancient cemetery, dated to the 2nd millenium BC.
Every summer, many tourists visit this place with the nice houses and hotels. Despite the fact that this village has tourism infrastructure, it has kept its traditional Cycladic color and the sweet calmness that characterizes it. The visitor enjoys walks in the village and fills its heart with unforgettable pictures. It has many cafes and taverns all within a 10 minute walk of the village. Whether you want to eat by the sea or within the village the food is always a pleasure.
The beach of Drios with its thin pebble is ideal for you to enjoy swimming and to avoid crowds. Highly impressive are the carved rocks where, according to the tradition, ancient navigators chained their ships. Moreover, in Drios you will find hotels and lodgings, bars, a supermarket, travel agencies and rent a car services. The small graphic port gives a push to the village that provides all sort of comforts to the visitors.
Location
---
Read more